BEEG members
Dr Karin Kjernsmo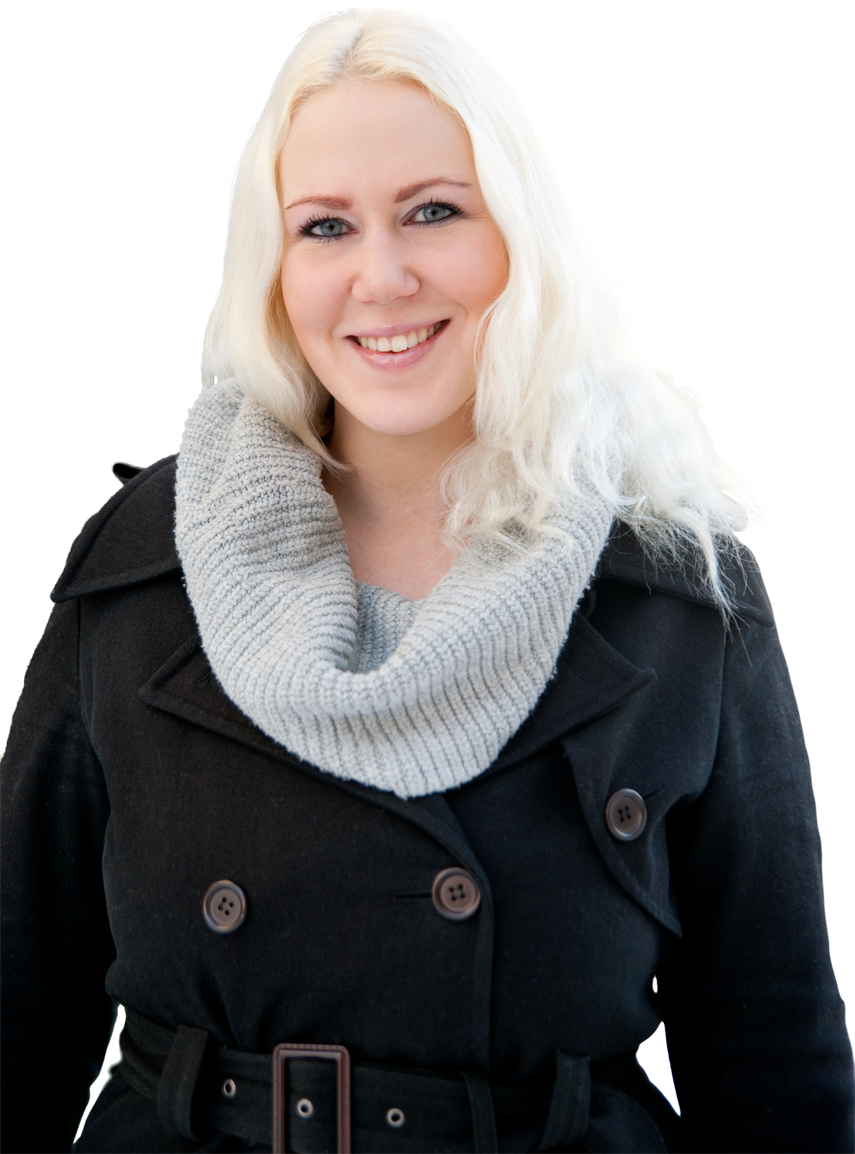 Contact details
Phone: +358-2-215 4860
Fax: +358-2-251 7013
E-mail: karin.kjernsmo(at)abo.fi
Postal address:
Environmental and Marine Biology
Åbo Akademi University
Artillerigatan 6
FI-20520 ÅBO
FINLAND
Room: 2047, Biocity, 2nd floor
Supervisor: Sami Merilaita
Co-supervisor: Jörgen I Johnsson
Also visit my homepage at Åbo Akademi University
And my own homepage
Research Interests
In my research I am mainly interested in natural selection imposed by fish on different types of protective colourations used by aquatic prey. I'm also interested in natural selection on related behavioural anti-predator adaptations, such as habitat choice of prey with respect to visual characteristics of the available backgrounds. Protective coloration, such as crypsis, warning coloration or eyespots, is an example of an adaptation that helps prey animals to avoid predator attacks. The adaptive value of these protective traits is determined by how predators respond to them, implying that the visual and cognitive abilities of predators should be an important driving force on the selection pressure of the traits.
Studies that in any matter involve animal cognition have previously mainly focused on birds and mammals. More importantly, empirical studies on natural selection on prey coloration have mainly used birds as predators. Considering that fishes are the most ancient form of vertebrates, and that all main forms of protective colouration have indeed evolved in aquatic environments much earlier than in terrestrial environments, very little is known about how protective coloration influences prey search in these environments and how the visual system and cognitive ability of fishes select for different types of protective prey coloration. Yet, even though the selection pressure imposed by fish on protective coloration has not so far received much attention, there exists plenty of basic knowledge about vision and cognitive abilities in fish that is useful for studying this question.
In April 2014, I obtained my PhD degree (final grade: Pass with Honours), and you can find my thesis "Anti-predator Adaptations in Aquatic Environments" as a .pdf version here
Research Approach
In order to investigate these questions I conduct behavioural aquarium experiments using near surface living fish species as model animals with both live and artificial prey types.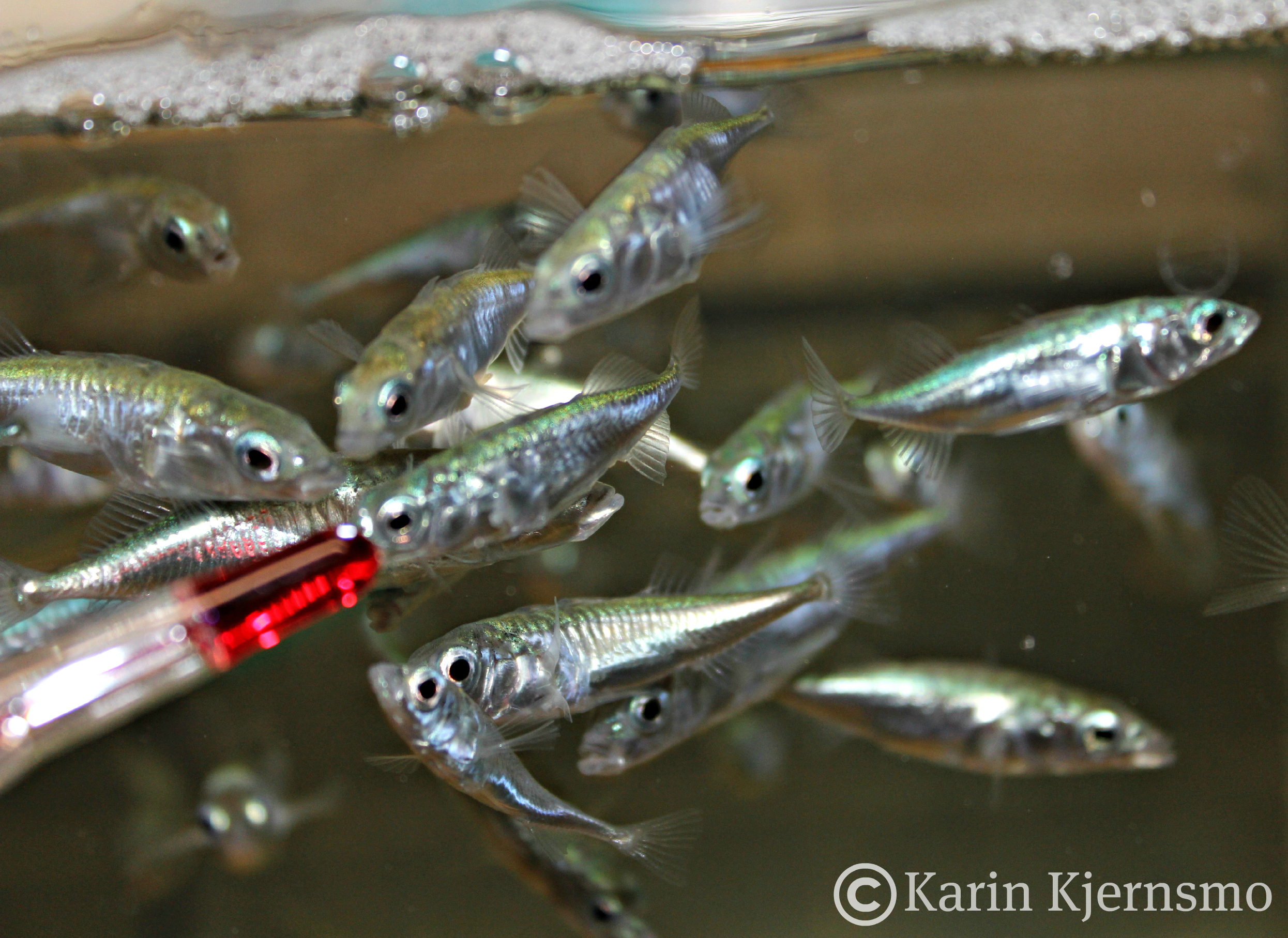 I currently (mainly) use the three-spined stickleback (Gasterosteus aculeatus) in my research
List of publications
Kjernsmo, K.& Merilaita, S. Resemblance to the enemy's eyes underlies the intimidating effect of eyespots. (Submitted)


Kjernsmo, K., Grönholm, M. & Merilaita, S. Adaptive constellations of anti-predator marks: eyespots, eye stripes and diversion of attacks by fish. (Submitted)


Kjernsmo, K. 2014: Anti-predator adaptations in aquatic environments. Ph.D. Thesis. Åbo Akademi University Press: Finland.


Kjernsmo, K. & Merilaita, S. 2013: Eyespots divert attacks by fish Proceedings of the Royal Society B (2013) 280: 20131458, http://dx.doi.org/10.1098/rspb.2013.1458


Kjernsmo, K. & Merilaita, S. 2012: Background choice as an anti-predator strategy: the roles of background matching and visual complexity in the habitat choice of the least killifish. Proceedings of the Royal Society B (2012) 279, 4192-4198, doi:10.1098/rspb.2012.1547


Scientific work mentioned in the media
Conferences and symposiums
December 2013:Association for the Study of Animal Behaviour (ASAB) Winter Meeting, London, UK, Kjernsmo, K.
November 2013: (Bloodbath) 20th "Bloodbath" symposium, Tovetorp, Sweden Kjernsmo, K. (Talk) presented


August 2012: The 14th International Behavioural Ecology Conference (ISBE), Lund, Sweden Kjernsmo, K. (Talk) presented


December 2011:Association for the Study of Animal Behaviour (ASAB) Winter Meeting, London, UK, Kjernsmo, K.
November 2011: (Bloodbath) 18th "Bloodbath" symposium, Tovetorp, Sweden Kjernsmo, K. (Talk) presented


November 2011: BIOINT annual meeting, Konnevesi, Finland. Kjernsmo, K. (Talk) presented


October 2011: Coevolution Symposium, Jyväskylä, Finland. Kjernsmo, K. (Talk) presented


April 2011: (SEBDEM) Symposium in Ecology, Biological Diversity, Genetics, Environmental and Marine Biology, Turku, Finland. Kjernsmo,K. (Talk) presented


Kjernsmo,K., Merilaita, S. & Wiksten, A. 2010: Eyespots as anti-predator device: Both intimidating- and deflective effect found against predation by fish. (Talk) Presented at: Association for the Study of Animal Behaviour Winter Meeting, London, UK


Kjernsmo,K. & Merilaita, S. 2010: Background choice as an anti-predator strategy: preference between visually complex and matching backgrounds in the least killifish. (Talk) Presented at: The 13th International Behavioural Ecology Conference (ISBE), Perth, Australia


November 2009: (Bloodbath) 16th "Bloodbath" symposium, Tovetorp, Sweden. Kjernsmo,K. (Talk) presented


March 2009: (SEBDEM) Symposium in Ecology, Biological Diversity, Genetics, Environmental and Marine Biology, Turku, Finland. Kjernsmo,K. (Talk) presented



Professional Posters



Kjernsmo,K. & Merilaita, S. 2010: Background choice as an anti-predator strategy: preference between visually complex and matching backgrounds in the least killifish. (Poster) Presented at: The 13th International Behavioural Ecology Conference (ISBE), Perth, Australia

View poster as PDF



Kjernsmo,K., Adriaenssens, B. & Johnsson, J. 2008: Preference for red prey in female, but not male domesticated guppies (Poecilia reticulata). (Poster) Presented at: The Third European Conference of Poeciliid Biologists, Chioggia, Italy



Teaching experience

Guest lecturer: Grundkurs i Biologi B, Åbo Akademi University (October, 2013)
Guest lecturer: Grundkurs i Biologi B, Åbo Akademi University (October, 2012)


Behavioural Ecology of Protective Colouration (Skyddsfärgningens beteendeekologi, 222045.0), Åbo Akademi University (2012)


Guest lecturer: Grundkurs i Biologi B, Åbo Akademi University (October, 2011)


Guest lecturer: Ekologisk analys, Åbo Akademi University (April, 2011)


Teatcher in Biology: Bergsjöskolan, Gothenburg, Sweden(2005)


Teatcher in Biology: Järnbrottskolan, Gothenburgh, Sweden(2005)



Popular and School talks



Stjerneskolan, Torsby, Sweden (Mars, 2012)