Åbo Kin&Cat
- an arena for academic-industrial collaboration and contract research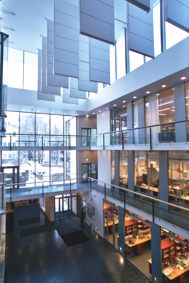 Åbo Kin&Cat is a site for contract research withindustrial partners. Åbo Kin&Cat is located at the Department of Chemical Engineering of the university Åbo Akademi in Turku/Åbo,Finland. We are a part of the Process Chemistry Centre (PCC), which is one of the national centres of excellence in scientific research in Our core edges of competence are applied chemical kinetics and chemical reaction engineering. Åbo Kin&Cat has been established to meet the industrial need for short-term contract research. The scientific basis of Åbo Kin&Cat is solid: we have more than ten researchers with doctoral degree and with various competence profiles, ranging from catalyst research to modeling of chemical reactors. The staff exceeds 30 in total. The leaders of the centre, prof. Tapio Salmi and prof. Dmitry Murzin have altogether 50 years experience. We are cost effective because of a low overhead and experienced staff. The patent position of the client is protected.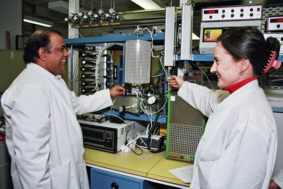 Services offered by Kin&Cat
To our customers we offer the following services:
Measurement of the rates of chemical reactions in batch, semibatch and continuous reactors
· The rates and equilibria of chemical reactions are of crucial importance for process design. We have more than 30 years experience from kinetic measurements in homogeneous and heterogeneous systems. We provide a set of test reactors (autoclaves, continuous reactors, mini- and microreactors) with computerized data acquisition systems
Measurement of physical properties (e.g. density, viscosity, gas solubility, surface area)
· We have equipment and experience for measurement of physical properties, which are relevant for chemical transformations
Measurement of mass transfer effects
· We have a long-time experience for studies of mass transfer coupled to chemical reactions
Evaluation of catalyst activities in conventional and parallel-screening equipment
· Catalyst activities are tested in batch and semibatch reactors (autoclaves), screw-impeller reactors, continuous minireactors, shaking reactor and a parallel screening equipment
Design and construction of experimental equipment for catalyst testing and kinetic studies
· Tailored equipment for the customer's purpose is designed and constructed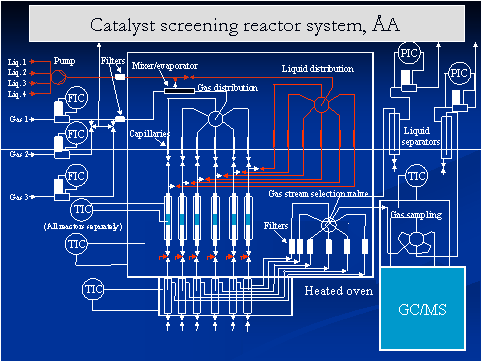 A parallel throughput catalyst and reaction screening equipment designed by Åbo Kin&Cat

Mathematical modelling of reaction kinetics as well as mass and heat transfer
· One of our flagships is modelling of simultaneous mass transfer and chemical reactions in porous media

Flow modelling – conventional and CFD

· Ideal, non-ideal (residence time distributions) as well as CFD based flow modeling is provided
Software for kinetics and reactor simulation
· We have about 20 years experience of software delivery to chemical and process industries, ranging from parameter estimation in laboratory scale to large-scale reactor simulations
Reaction intensification
· We help you to intensify your process, by modelling and experiments. We have unique equipment for reaction intensification via ultrasound and microwave treatment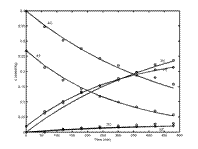 Examples of kinetic data fitting and reactor simulations
How to reach us ?

A detailed description of the centre, including the equipment is available on our webpage.

In case you need us, please take contact to

Prof. Tapio Salmi Prof. Dmitry Murzin
Head of the centre Dmitry.Murzin@abo.fi
Visiting address:
Åbo Kin&Cat, Åbo Akademi/Teknisk kemi, Piispankatu 8 (Biskopsgatan 8), FI-20500 Turku (Åbo), Finland
Telefax: +358-2-2154479

Webpage: www.abo.fi/fak/ktf/tek/
---
Pages updated by Johan Wärnå